中美土地生态中心(US-CHINA Land Ecology Center)最终花落加州大学戴维斯校区(UC Davis)。8月7日 9:30在 UC Davis West Village的广场上举行新的中美土地生态中心成立仪式。中国驻旧金山总领馆副总领事,加州环保部,Yolo郡首席官等嘉宾将前来剪彩祝贺。
中美土地生态中心将由 UC Davis ITS 中国中心主任Prof. Yunshi Wang、环境科学与政策系 Prof. Fraser Shilling 共同指导,并由 Fei Meng 女士组织管理。
下附UC Davis中美土地生态中心详细介绍。
TIME AND DATE: 9:30 AM, AUGUST 7, 2017 AT THE WEST VILLAGE (QUAD), UC DAVIS
It's not just the smog in the cities, pollution is everywhere. According to Bloomberg, nearly 20 percent of China's farmland is dangerously polluted and 80 percent of its ground water is undrinkable. China has recently released a plan to rehabilitate 90 percent of its polluted industrial areas and farmland by 2020. By one estimate, remediating all of China's polluted soil would cost about $1 trillion! The concept of ecological engineering was introduced over 50 years ago, but its definition, principles, standards and implementation are yet to be finalized.
CENTER'S PURPOSE
Facing the challenges and opportunities, UC Davis and Shaanxi Provincial Land Engineering Construction Group Co., Ltd. are joining hands in launching the first ever China-US Center for Ecological Land Engineering and Technology (the Land Ecology Center). The center will be formally established at the West Village, UC Davis on August 7th, 2017. The UC Davis partners are the Road Ecology Center with affiliated experts in land protection and agriculture and China Center for Energy and Transportation at ITS-Davis, a center well-known in China for its ground-breaking work on clean energy policies. The purpose of the Land Ecology Center is to conduct joint research on best practices, share experiences and lessons learned, and strengthen communications on ecological land engineering and technology to help policy makers, academicians, and practitioners to advance theories, develop policies, and guide their implementations in both countries.
PARTNERSHIP WITH CHINA
The Shaanxi Provincial Land Engineering Construction Group Co., LTD was founded by the Shaanxi Provincial Government on July 6th. 2013. The Group is a state-owned enterprise dedicated to solving the cropland degradation as well as providing sufficient arable land and supporting the fast sustainable economic and social development of the province. The Group's main business includes land consolidation, land consolidation for crop-land replacement, land acquisition, real estate development, land surveying and planning, land engineering research and other land related services.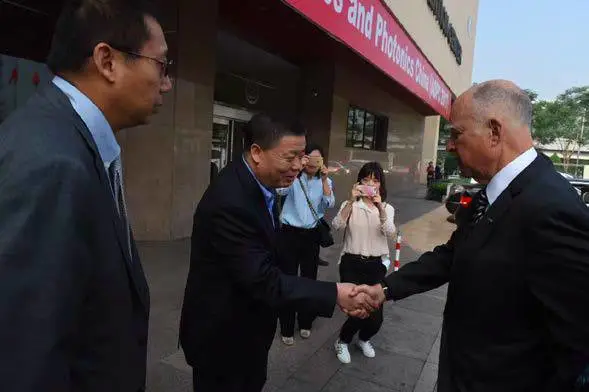 Governor Brown Met Chairman Han in Beijing on June 7, 2017
Photo credit: Aaron Berkovich
The Group also helped national and provincial governments build a research platform in the related areas. Main research entities include a Key Laboratory of Degraded and Unused Land Remediation Engineering, under the Ministry of Land and Recourses including but not limited to the Engineering Research Center for Land Remediation of Shaanxi Province; Academician and Expert Workstation of Shaanxi Province; Scientific and Technological Innovation Team of Degradation and Unused Land Remediation Engineering of the Ministry of Land and Resources; Postdoctoral Program of Shaanxi Provincial Land Engineering Construction Group Co., Ltd., etc. The group takes the lead in proposing the construction of land engineering discipline and is building the first college of land engineering with China's Chang'an University.
The new Center will share with our Chinese partners the best practices and policies in California and will facilitate joint research between researchers from UC Davis and China. It will also provide support to the first college of land engineering at China's Chang'an University.
ABOUT THE CENTER
The Center will provide a liaison function between the Shaanxi Provincial Land Engineering Construction Group Co., Ltd. And UC Davis scientists, under the leadership of Center directors and staff. Affiliated faculty and graduate students will help with specific studies on land restoration. The Shanxi Group will provide the center with unrestricted support of USD 500, 000 over three years and will provide additional funding for specific research projects.
The Center will be led by Fraser Shilling and Yunshi Wang, and coordinated by Fei Meng. Additional staff support will be provided by UC Davis experts in landscape and agricultural processes and technical staff fluent in Chinese.
Fraser Shilling, Co-Director
Road Ecology Center, UC Davis
Davisfmshilling@ucdavis.edu
Yunshi Wang, Director
China Center for Energy and Transportation, UC
yunwang@ucdavis.edu